DARE1
DJIBOUTI AFRICA REGIONAL EXPRESS
In early 2015, Djibouti Telecom decided to build a new regional submarine cable system DARE1 (Djibouti Africa Regional Express1).
Landing across 3 countries and 4 cities, the network will cover 5,000km and will have a capacity per wavelength of 100Gbps. Owned by a consortium of East African telecom operators the project is estimated to cost $86m. As part of the Djibouti Vision 2035 strategy this project will bring much needed fibre optic to the region and has unanimous support across all stakeholders.
TO DOWNLOAD A FULL INFORMATIONAL PRESENTATION
Single optical connection to Mogadishu (EASSy)
No consortium's cable landing in Yemen for more than 20 years
Clearly recognized as "the" driver for economic growth in Africa (mainly due to mobiles)
Growth extremely sensible to the availability of large & cheap international capacity
Near future capacity forecasts expressed in multiple Gbps
INTERNATIONAL CABLE NETWORK:
THE DJIBOUTI "ROAD"
Technical
. Proposed connection in Somalia (Bosaso, Mogadisho), Kenya (Mombasa) Over 5000 km of 3-fiber cables
paired with standard international protection (armoring, burial, etc.)
. Connection via BU-ROADM
. The initial technology based on Nx100G wavelength (10G client interface)
. Capacity Design supported by two pairs of fibers: a Total of 36 Terabits per Second
Commercial
. Consortium model
. Interconnection open to Djibouti and Mombassa
. 10G DWA interface access for Internet connectivity
POTENTIAL ACCESS TO DARE1
Rwanda has the opportunity today to acquire a Direct Fiber between Dar Es Salam / Mombassa and Djibouti. From Djibouti, Rwanda can use existing or new cables, or even invest as a consortium member on Future cables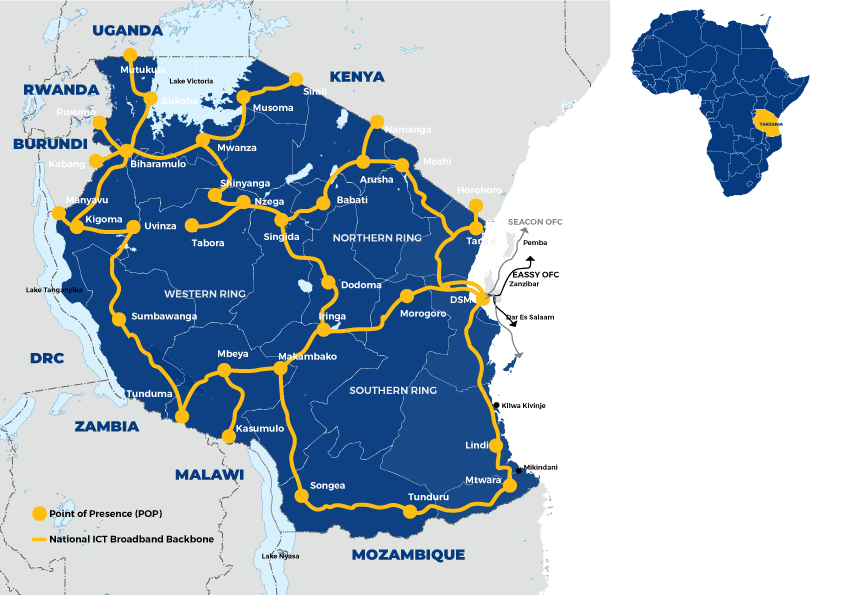 NETWORK IN TANZANIA AND ENCLAVE COUNTRIES
Tanzania has borders with Rwanda, Uganda, Zambia, Malawi and Mozambique. Tanzania has developed optical terrestrial networks
DARE1 PROJECT STATUS
By 2028, the projected data traffic from East African countries will reach 80 Terabit per second. This request will require the construction of 5 to 6 submarine cables over the next 12 years. DARE1 Will be one of these cables that will handle safely this regional traffic to Data center available in Djibouti and extension to Europe, Asia, or USA through existing international cables.
Un nouveau câble sous-marin qui relie Djibouti, La Somalie et le kenya est maintenant actif après plus de 5 années de travail. Long de 4.900 km, il est équipé de la dernière génération en fibre optique. Le consortium à l'origine du projet regroupe Djibouti Telecom,...
Contact us for more info on dare1
Please fill out the below form if you would like to make contact with us. Alternatively, our contact details can be found on our contact page and at the bottom of the page.